Thank you for a great year!
The barn is now open by appointment until March 2024.
We're already receiving lots of exciting new items for next year, and we're more than happy to meet with you or work by email to get you all set for next summer. We also offer sales calls when possible. Our warehouse is filling up and we'll be ready to set up better than ever for our 25th season! We have what you need for comfortable, durable top quality outdoor furniture. Click on the email link below if you're ready to get started!
We wish everyone a happy and healthy holiday season.
Outdoor Living Never Looked So Good
Since 2000 Deck Dock Home & Garden has provided the Lakes Region with top quality outdoor furniture and home goods from US companies like Seaside Casual of Rhode Island, PolyWood of Indiana, and Telescope Casual of New York. Everything from local art to highest quality cushioned sofas and club chairs for the porch, patio, deck or dock.
HIP dining from Seaside Casual of Rhode Island
Only the Best
Made to Last
We work with family-owned American companies, and stock extremely well made outdoor furnishings ready to try and buy. With decades of design experience, we can guide you through an array of materials and color choices for the perfect solution.
Minimal maintenance, a broad range of durable materials, and design excellence add up to an easy shopping experience. Come and explore our old horse barn and find local art, home & garden accessories, outdoor dishware, and more. 
Edgewater wicker with Outdoor Greatroom propane fire table
Visit Our Barn in Sunapee
With 5,000 square feet of showroom space, our Sunapee barn will give you the opportunity to browse all our in-stock inventory.  Find the perfect patio set, chair, umbrella or whatever else you need to make your space even more comfortable!
Sunapee
81 Edgemont Road (SR 103B),
Sunapee, NH 03782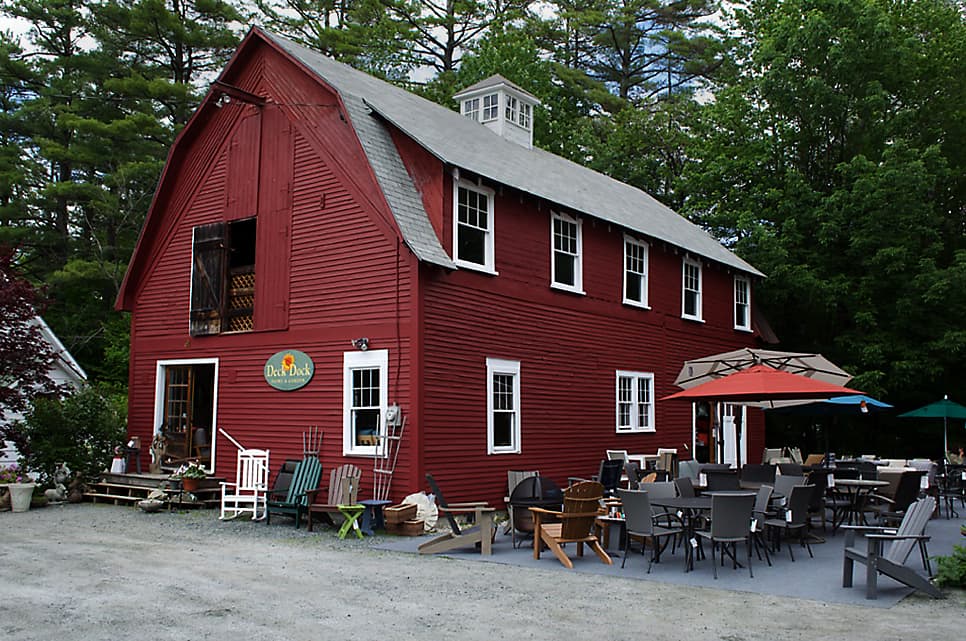 Sunapee
81 Edgemont Road (State Road 103B),
Sunapee, NH 03782
Half a mile up from Route 11 in Sunapee